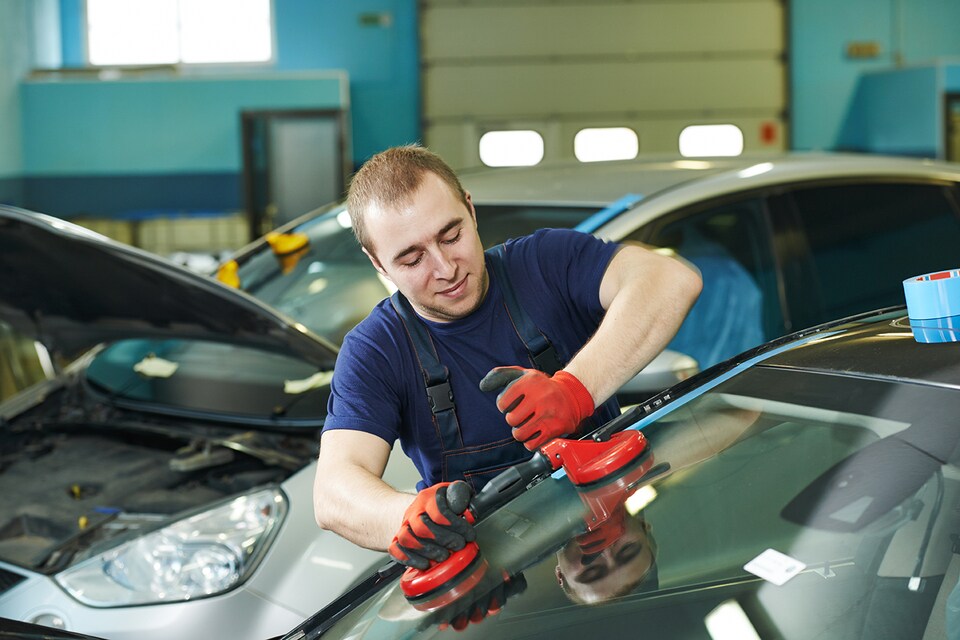 ADAS Windshield Replacement Calibration in Fairfax, VA
Trust Our Collision and Auto Glass Experts with Your ADAS Calibration in Fairfax
The introduction of cameras and advanced sensors to vehicles has improved automotive safety by leaps and bounds. Advanced Driver-Assistance Systems (ADAS) are in most vehicles on the road today, and regular service of them is just as important as the other components in your car, truck, or SUV. The most common fix for ADAS issues is through calibrating them, which is something we often undertake when handling windshield repair in Fairfax. Read on to learn more about ADAS calibration, how it involves your windshield, and why you should visit Ourisman Fairfax Toyota Collision Center for it.
What is ADAS Calibration for a Windshield?
---
Advanced Driver-Assistance Systems (ADAS) are incredibly common in today's vehicles, so much so that you may not even realize how many ADAS technologies that your model has. These features cover everything from the warning beeps you get when backing up to adaptive cruise control systems to rain-sensing wipers, and they all rely on the correct calibration to work properly.
Windshield calibration for ADAS is a straightforward process that requires the right tools and expertise, which we have here at our collision center. The ADAS in your vehicle is incredibly helpful but also very complicated, so even slight calibration issues throw them off and make for worse driving experiences. Our experts will position the windshield and all driver-assistance sensors and cameras correctly so that you get the full benefit of these advanced automotive safety measures.
Does My Windshield Need Calibration?
---
Do you have an older model without any driver-assistance features? If so, you should be good, but all other vehicles require windshield calibration. Manufacturers started adding these features years ago, so there's a solid chance that your model has them, which you can always call our auto body shop near Alexandria to ask about. If you know that your vehicle has one of the following features, you'll know that you should have experts check the ADAS calibration at some point.
Rain-sensing wipers
Forward collision alert
Automatic emergency braking
Pedestrian detection
Front and rear parking sensors
Adaptive cruise control
Lane keeping assistance
Lane departure warning
Blind-spot monitoring
Cross-traffic alert
Traffic sign recognition
Head-up displays
Auto high beams
Turn-compatible headlights
Car brands often have their own names for the ADAS in their vehicles, and they're always adding more systems, so this list may grow. Miscalibration of these systems can range from being a small hassle to making your vehicle less safe to drive, so it's important to schedule a calibration check.
When Does My Windshield Need Calibrating?
---
Windshield and ADAS calibration is an important step of any auto collision repair or windshield replacement near Chantilly, so it needs calibrating after any accident or when replacing auto glass. We schedule in the ADAS calibration during windshield replacements and include it in estimates. You should also have it looked at if you're anything about your car's ADAS seem off.
Come to Our Auto Body Shop for Auto Glass Repair, Replacement, and Calibration
The wrong calibration for your windshield and the ADAS in your vehicle can be dangerous and an annoyance, but some repair shops don't have the training or tools to handle ADAS calibration. Our master repair technicians have experience on all sorts of models and brands and know the calibration techniques for even the newest model years. We can make sure that you have the right calibration on your model so that you'll know that all the advanced features you paid for work as intended.
It doesn't matter if you have a Toyota, Jeep, Ford, Hyundai, or other brand, our technicians know how to repair your model and make sure it drives, feels, and looks better. Our collision center accepts a wide variety of auto insurance coverage and gives you accurate estimates for cost and how long repairs will take. We can even help with towing, such as if you have a smashed windshield that is unsafe to drive with.
Contact Our Collision Center to Schedule an Appointment or Estimate
ADAS problems aren't always easy to pinpoint and certainly a service task to leave to an expert, which you can talk to when you reach out to us. If a chip, scratch, or other damage to your windshield requires replacement, you can schedule an estimate or just set up an appointment. You can also look through the rest of our site to see the many certifications we have, check out auto service specials near Arlington, or to find our body shop and directions to us!