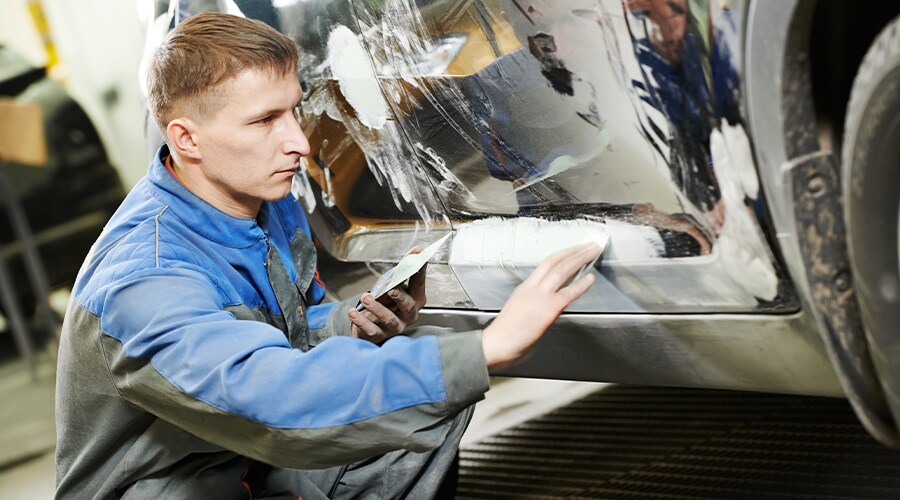 Body and Cosmetic Repairs at Ourisman Fairfax Collision
Find a Place to Trust with Auto Body Repairs and Cosmetic Work in Fairfax
There are a lot of different types of damage that can happen to your vehicle, and our Fairfax body shop is here to help repair all types. Our technicians have a lot of experience fixing cosmetic and body damage with your vehicle, and we work on all types of makes and models while providing dependable repairs at competitive prices. Even smaller dings and dents can hurt the value of your vehicle and how much pride you have in it, so don't hesitate to schedule repairs with us. Read on for more details about auto body work and cosmetic repairs.
Common Types of Cosmetic and Auto Body Repairs
---
Our technicians' experience means that we've seen all types of auto body damage, from scratches to fading paint. There are some cosmetic repairs and body damage fixes that we see more often than others, so we've highlighted those to help car owners know about their options.
Panel Replacement
If you were recently in an accident, you're likely to have damage to one of the body panels that make up the exterior of your vehicle. We can easily replace damaged body panels so that your vehicle looks as it did before your collision. You may have also previously settled for a body panel that is a different color than the rest of your vehicle, but we can replace any body panels you want, from the bumper to the hood.
Dent and Scratch Repair
Dents, dings, and scratches can build up on your vehicle no matter how hard you try to protect it. This body damage can come from runaway shopping carts to tree branches to something you bump against your vehicle when loading it in the rear. We can buff out those scratches and other surface-level damage to your vehicle and repair other dings and dents.
Auto Glass Replacement
Your windshield and other windows can experience a range of damage, from cracks and chips to being totally broken. We handle all sorts of auto glass repair and replacement, including on modern windshields that have rain-sensing wipers and other advanced features. We can replace your windshield near Alexandria or seal a chip so that it doesn't continue to splinter.
Paint Refinishing
You can't talk about car cosmetic and body repairs without mentioning paint refinishing. Your auto paint can fade or corrode, or it may experience damage during an accident. We have certified paint refinishing technicians and state-of-the-art tools to ensure your new paint matches the color of the rest of your vehicle and that fading paint looks as glossy as it did when it was brand new.
Why Come to Our Collision Repair Center near Chantilly?
Drivers have options when they need help with auto collision repair around Arlington, but there are many reasons why so many come to us. We have a large team with many combined years of collision repair experience, which means we've seen, and fixed, all sorts of issues. Our tried and true auto repair process ensures that we catch and repair all damages so that you're confident in the quality of your vehicle. We provide free estimates for auto body repair, and you can enjoy many other amenities, such as towing service and how we work with all insurance.
Contact Our Auto Repair Center with Any Questions
Our team is always happy to talk with car owners that have questions about auto repair and our collision service center. There's a lot to think about and consider when performing major auto repairs, so don't hesitate to contact us to learn more about all that we can help with and how it can improve your driving experience.