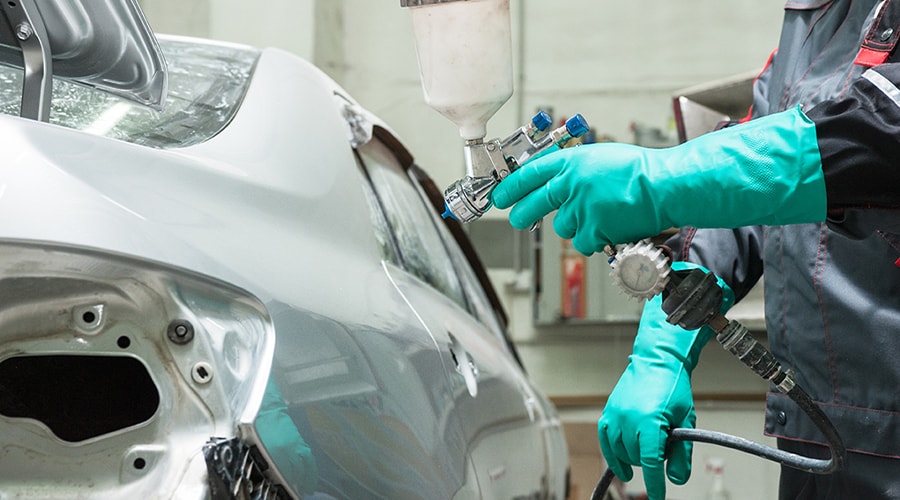 Paint Correction & Repair in Fairfax
Our Collision Center Provides Expert Auto Paint Service in Fairfax
Our auto body shop knows firsthand how much drivers care about how their vehicle looks, and the paint is certainly a big part of that. We work with many drivers looking for auto paint services, and those services range from touch-ups to fixing the paint after an accident to entirely changing the color and look of your vehicle. Our team is who to trust when you need work on your vehicle's paint, so read on to learn more about us and all that we can do for you.
Why Come to Us for Auto Body Paint Fixing near Alexandria
---
Our auto collision repair center is a place that car owners trust to handle all sorts of car repairs, including any work that your auto paint needs. We employ a large team of ASE-certified auto technicians that have state-of-the-art tools to help with all painting and refinishing work. These include Master Collision Repair Technicians that have gone through all tests and certifications to know exactly how to have your vehicle looking brand new.
Our body shop uses advanced paint matching technologies to ensure that your exterior all looks the same. We're sure that you won't notice any differences between the paint we applied and the original color! We don't cut any corners as we do cleaning, priming, blocking, and sealing to ensure that your paint lasts and stands up to all weather. This process is quick, and our competitive rates will help your wallet.
Reasons to Refinish Auto Paint on Your Vehicle
The look of your vehicle plays a key role in its estimated value, and fading or chipped paint can massively hurt the value of your vehicle. Auto paint refinishing near Chantilly helps raise the value of your vehicle, which is great for if you plan to sell it or trade it in. Old paint can also lead to further damage, including corrosion, which again hurts the value and appearance of your vehicle.
Drivers also want their vehicle to stand out for the right reasons and impress onlookers, and faded or miscolored paint won't help with that. We'll have your car looking glossy and new so that your vehicle impresses without having to buy a brand-new one. You can even change the color of your vehicle or find a new finish if you'd prefer, and we can highlight options for you.
Other Benefits of Coming to Our Collision Service Center
Paint refinishing is just one service that our auto body shop near Arlington provides, and you don't have to have been in a collision to schedule an appointment or free estimate with us. Paint issues are far from the only cosmetic item that can frustrate car owners, and our collision center can help with other dings, dents, and auto glass repairs. We've been in the business for a long time and have the experience and expertise to ensure quality, quick fixes at competitive rates. Customers will enjoy other amenities, like an online tool for estimating repairs and loaner vehicles, and we work on all makes and models and with all types of insurance.
Contact Ourisman Fairfax Toyota Collision Center for More Help
We're the first place to call if you're considering a new paint job for your vehicle or fixes to paint problems that are hurting your style. We can talk about our services and how we can have your car looking better as well as the tools we use and our certifications. Let us know what questions you have or if you'd like to schedule an appointment with us!